Assis dans ma chaise en bambou, je mets l'album live de Mono: Holy Ground, et je mets le volume dans le tapis. Envoûtant et percutant, je me dois de vous transmettre les délices de ce duo de japonais qui excellent dans l'art du Post-Rock.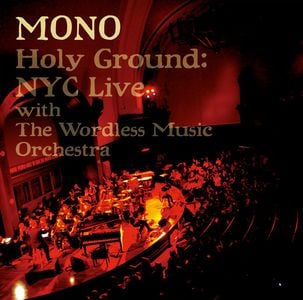 Mono
Holy Ground: NYC Live w/ The Wordless Music Orchestra
2010 | 79:04
Post-Rock INCROYABLE.
ProgArchives [4,13]
La Soirée Prog [4,75]
Page ProgArchives


Oui, je le veux

Featuring my favourite tracks from Hymn to the Immortal Wind as well as their 2003- 2006 releases this is Mono's first live release and a must have for fans. The addition of an orchestra brings a fuller sound to the performance and make the tracks even more epic than usual! I find that Post Rock as a genre usually treads a very thin line between bland and brilliant. Thankfully the this release falls into the latter category and whilst the majority of it is truly captivating, the weaker sections still manage to hold my interest. This is an excellent addition to any prog rock collection although I don't think it is essential.
La série "Gramophonique" présente des albums provenant de sources authentiques, directement extraits de plastique noir, communément appelées: vinyles, records ou disques 33 tours. On pourra les retrouver en 320 kbps ainsi qu'avec tous les charmes de ses craquements et de ses cliquetis d'époque. Finalement, entre les deux côtés, vous allez peut-être constater une pause de 5-10 secondes; je dois tourner le disque.

***Aussi, j'essaye quelque chose pour le téléchargement, dites-moi si ça va bien dans les commentaires***



Genesis
Selling England By The Pound
1973 | 53:22
Symphonic Prog
ProgArchives [4,65]
La Soirée Prog [4,50]
Page ProgArchives


Oui, je le veux

Appréciez l'album classé numéro 1 dans le classement de Prog Archives!

1. Dancing With The Moonlit Knight (8:01)
2. I Know What I Like (In Your Wardrobe) (4:06)
3. Firth Of Fifth (9:34)
4. More Fool Me (3:09)
5. The Battle Of Epping Forest(11:43)
6. After The Ordeal (4:12)
7. The Cinema Show - Aisle Of Plenty (13:26)
Archives